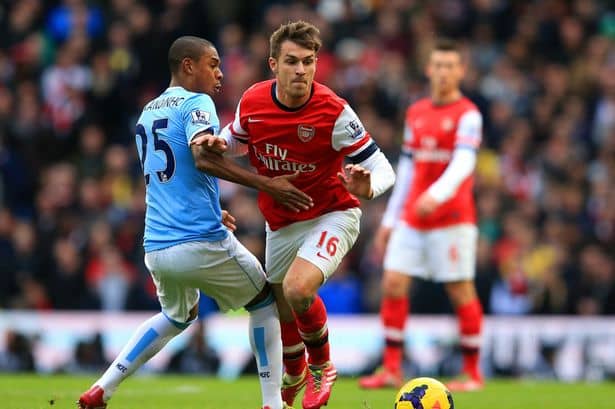 Picture: Mirror.co.uk
Whatever the outcome of the game at the Etihad on Sunday may be, one thing we know for sure is that its going to be an exciting game with loads of goals as has been proved in the past.
This match is a must-win for City as they hope to close up the gap on Chelsea after letting two points slip last week against Everton. The Citizens would look to get their title challenge back on track against Arsenal and are boosted by the return of their Star boy or should I say Star man, Sergio Kun Aguero.
Arsenal on the other hand would be looking at snatching a vital 3 points if our hopes of finishing in the top 4 this season are to be kept alive.
Pellegrini's team are unbeaten in their last 12 Premier League matches, winning nine, and Arsenal's away form remains patchy, with just four wins from 11 perhaps explaining why they're not quite in their usual sanctuary of 4th.
There have been 28 goals in the last seven meetings between these two at the Etihad, the most memorable being City's 6-3 win back in December 2013. There have also been six red cards in the last nine matches between these two and Sunday's game would prove no less entertaining.
Interestingly, Pellegrini named Arsenal's Superman, Alexis Sanchez as the best player in England during an interview with AS this week and this suggests the Chilean is all-too-aware of the threat posed by his compatriot.
A strong case can certainly be made; Sanchez has been involved in more goals (19 – 12 goals and seven assists) than anyone else in the division. Pellegrini better have a good plan to stop him or else…
He had better ignore Sanchez because we have other players who could pose threats to his team and in that way give Sanchez room to operate and maybe grab us the winner on Sunday, who knows??
I think it is a plus for us that City would be unable to unveil their new man, Wilfried Bony against us thanks to his presence with the Ivorian national team in preparation for the African Nations Cup. City would also be without midfield maestro, Yaya Toure.
That's two players we would rather play the game without. Imagine an attack of Bony and Aguero with Yaya pulling the strings from behind. That would just have been a nightmare for Monreal and Per. But then, we can worry less about that for now.
But we need to win away against the reigning EPL champions in order to keep our top 4 dreams alive and it is no exaggeration to say that Arsenal's recent results against the big clubs, especially away from home, is about as good as Tottenham's record of getting into the Champions League, as in not very…
The Gunners, although still with plenty of injury problems, should have the likes of Theo Walcott and Aaron Ramsey back in the starting line-up, so should we stick or twist?
After all, a point away from home against the champions would not be a bad result by any means, whereas yet another defeat, even if it is a narrow one, would inflict further damage on the confidence and self-belief of the Arsenal players.
With Alexis Sanchez in the team though, along with plenty more creation and goal threat from Gunners like Cazorla, Walcott, Ramsey and the Ox, I think that Arsenal will always have chances to score, so maybe Wenger needs to focus more on not conceding. It might be seen as a bit negative but would you really care if we nicked the game 1-0?
I know i won't.