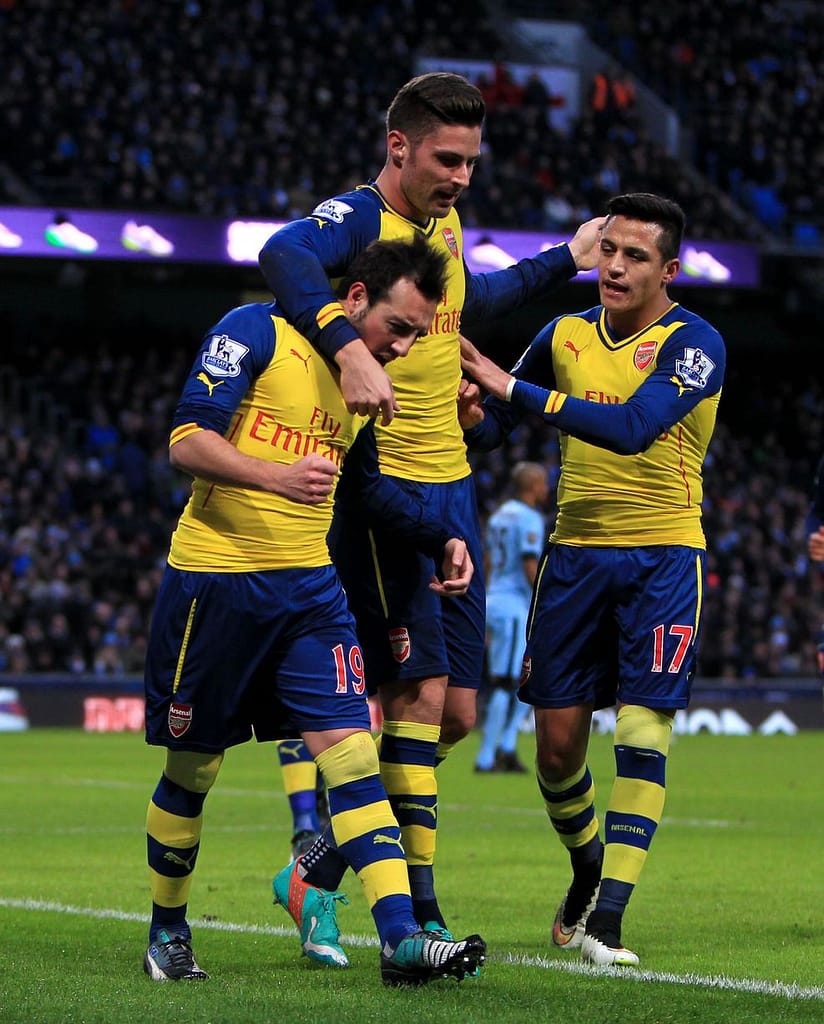 Picture- Manchestereveningnews.co.uk
*
Normally i'd say it's just one game
But fuck that! I'm frigging excited
We went to the home of the reigning champions of English football and we won. And no it wasn't some smash and grab kind of win, it was a controlled performance, a defensive solidity that at times seemed like Chelsea's blimp, just way classier…and cleaner…and better…and less stinky and disgusting.
Where do i even start? I was a little worried by the first half performance when we seemed we were being pressed, but we dealt with their attacks satisfactorily…
But that second half
We were amazing!
I love Giroud. He scored and credit to him. He has been criticized for not being able to score against the big teams but he scored a goal here and let's not forget the consolation against Manchester United (we lost but it was still a goal against a big team)
On an evening when Sanchez was not his electrifying best (not to say he wasn't good, he just wasn't as amazing as we're used to) it was refreshing to see other players step up
Bellerin was amazing. I was a little surprised (pleasantly) by his inclusion in the starting lineup, but he fully justified it and it isn't difficult to see him owning that right side of defense.
Coquelin was also really, really good. Partnered with a returning Aaron Ramsey, he was solid, robust and his distribution (which has come under fire) was tidy. I still feel we need an upgrade, but i'm not as adamant about it as i once was.
He survived a midfield with Fernando and Fernandinho. He wasn't fazed, he wasn't scared, he carried out his job with aplomb
If Santi was not such a demon my man of the match would have been Monreal
And what a game he had
He was assured in defense (except that one time that Navas got past him), he was creative in attack and he won the ball really well. He also won the penalty that put us ahead. He's definitely winning the left side of defense battle at the moment
And Santi
Santi
Oh Santi
A goal and an assist makes him the undisputed man of the match. He also wriggled and turned and twisted his way out of danger way too many times than i can count. This is surely the Santi of the first season, now he has a supporting cast. There was this particular run he made that had everybody in the viewing center on their feet. He carried the ball out of defense and got past at least 3 players and even when he lost the ball he put himself in the way so as to stop a counter attack.
Everyone was amazing. Santi was so good i genuinely fear for Ozil, Santi is simply undroppable and even a change in position will be controversial. The defense was lovely and it was nice to have another clean sheet
This is the sort of result that could start a run, a serious, serious run of wins. The win is triple confidence boosting and it puts us in good stead for the rest of the season
A word on Arsene. His tactics were spot on. We stifled Man city, made Aguero see as little of the ball as possible and his substitutions were astute.
Rosicky in particular impressed me after he came one, he was energetic and his retention of possession was key as was his passing. Arsene gets a lot of stick, but he should be praised today , he did good
Santi said we needed to be perfect to  win city and we were just that
I'm so excited
We won!
Till Later