Last week was an exciting week at Arsenal. Outstanding events: an attempted robbery, new signings, two defeats and a karmic response of sorts happened all in one week. Let's get in.
Arsenal Matches Against Real Madrid, Barnet and Lyons
The most notable is our first team's match against Real Madrid where we threw away our 2-nil lead. With goals from Lacazette and Aubameyang, most Gunners thought we had the game done and dusted in the second half.
And then our Archille's heel: The defence.
Real Madrid came in the second half and drew level in less than 30 minutes. Real Madrid has been atrocious in defence this pre-season. Athletico Madrid made them carry a cart of 7 goals, and they've floundered hopelessly even after.
Our under-23 and the under-18 player beat Barnet 3 goals to 2 while we lost to Lyon in a match where the loss was avoidable.
[su_button url="https://www.ticketgum.com/" target="blank" style="soft" background="#c10e23″ size="6″ wide="yes" center="yes" radius="round"]Buy Arsenal Tickets Here[/su_button]
Lacazette limped off the field as did Maitland-Niles. I do hope they get better soon, especially as I bought shares in Lacazette on Football Index.
[su_box title="Arsenal Revive Interest in This Italian Player" box_color="#b3030b" title_color="#ffffff"]According to 90min, Arsenal has revived its interested in the highly-rated Italian player. Click here to read the whole story here.[/su_box]
Mesut Özil and Sead Kolasinac: The Watch-Napping Attempt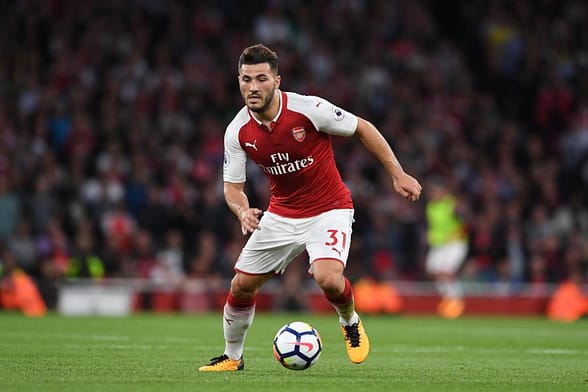 During the week, Arsenal players – Özil and Kolasinac – had a brush in with some yobs on a moped. Rumour has it that Kolasinac's luxury watch was the target of this foiled robbery, but both Özil and Kolasinac have said nothing to that effect. Both players are currently receiving all the support they need from the club. Watch the video here.
Saliba and Ceballos Join Arsenal
The wait was finally over. William Saliba and Dani Ceballos signed for Arsenal during the week, and we got to see both players do what players do when they sign. One point to note is that Sp*rs wanted both players, and both said NO. *grin*
Ceballos looked spritely in his first match for us against Lyon while Saliba has gone back to Saint-Etienne on loan.
One Word: Özil's Clapback at Sp*rs
If you look closely … you can see your trophy cabinet 🧐😉 #YaGunnersYa https://t.co/e5YCn1doDt

— Mesut Özil (@MesutOzil1088) July 25, 2019
Highly regarded by Arsenal fans around the world as one of the greatest clapbacks in history, Özil tore into the souls of Sp*rs fans.
Here's a brief history of this clap-back. We know that Özil sometimes gets missing in games. So, a Sp*rs fan analysing a picture of a team picture enquired about a missing player in the team picture by stating why 'Özil' was in the Sp*rs team picture. Even though we know Özil might not be playing his best right now, he's been forgiven for last season just because of the genius of this clap-back.
Ryan Shawcross' Leg-Break
Some Gunners said karma came calling on Ryan Shawcross. And at first, for the first 5-10 seconds, I'm ashamed to say that I felt like that. I quickly repented, though. We shouldn't pay evil with evil or wish such harm on anyone. Ryan Shawcross was playing football when Ramsey's leg break happened, albeit stupidly rough football. It's with those thoughts that I wish him a quick recovery and all the best in his career.
We're looking forward to a more exciting week what with our supposed signing of Nicolas Pepe and maybe defender: Rugani.