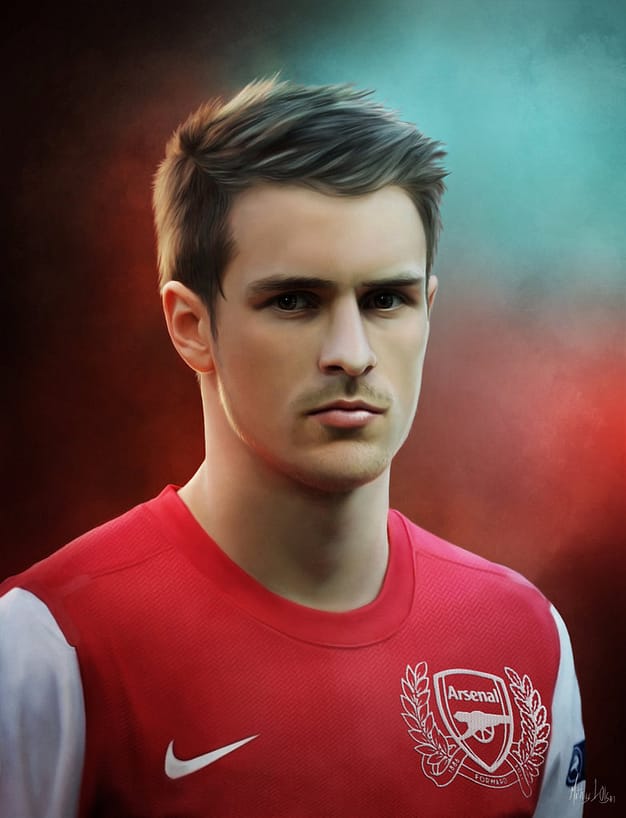 Raging Ramsey
Aaron Ramsey doesn't seem to want to 'extinguish' himself does he? The lad's even on fire in my Arsenal team on FM after instructing him to shadow Mikel Arteta.  Ramsey scored a late goal against the major underdogs of the forthcoming World Cup in Brazil – Belgium.
With the likes of Lukaku, Dembele, Hazard, Courtois, Mirallas and Kevin De Bruyne, I consider them the new 'Dutch' team; you know, that team that could really cause an upset.
Ramsey continues to be the 'revelation' of the season for both club and country; I'm expecting an autobiography from him titled – 'How Ramsey Got His Groove Back'. Wales online
_____
Flaming Flamini
Suffice it to say that I am very ashamed of myself; why? I wanted Fellaini so bad during the transfer window and considering the way Flamini left, I felt it a bit of a slap on the face when we signed him, again.
However, 'Flaming Flamini' has shown that he is a consummate professional and has lit the fire that was once dying out in the team. He is a no-nonsense-hard tackling-rough talking-Monsieur if there ever was one; Arsenal great Ray Parlour mentioned how important Flamini is for Arsenal this season, and I'm glad we have him back. IbTimes
I thought Flamini was a poor man's Fellaini. Fellaini's a fool's Flamini

— Pierre (@lautrepires) October 1, 2013
_____
Venting Vermaelen
As Gunners around the world have come to notice, the Per + Koscielny partnership is a match made in football heaven AND,yes, I know that was in caps, Vermaelen was a bit nonchalant in his defending for the Arsenal last season. He was practically taking selfie pictures when we conceded some goals, this was excruciatingly painful for me and I'm sure, for you.
His lack of regular game time has got him saying stuff like this –
I'll have to think about that when it's necessary," Vermaelen said…"January is still a few months ahead…Of course, never playing will not be the ideal situation for me to go to the World Cup, that's for sure."
He however stated that not playing regularly was nothing to worry about, hmm… Crunch Sports
_____
Begovic Could Be Sold But To Who?
According to the Metro, Stoke's owners are prepared to listen to offers for Begovic but there's a catch – only top clubs can bid – and for my own sighing pleasure, I believe they mean they'll only take big bucks for the shot stopper BECAUSE, (yes, I know, caps again) only big clubs can s!*t out that kinda cash.
Also, Liverpool and Chelsea seem to have joined the race to capture Begovic and I feel, the only English club which has enough financial 'swag' (I know, I hate the word too) is Chelsea on a Russian-Sugar Daddy-Binge. For now, it's fingers crossed gentlemen/women, it's fingers crossed. Metro
____
In other EPL news, the blame game continues at Newcastle. Personally, I don't think Alan Pardew is really that bad of a manager, it's just, well, Mike Ashley is a pain and when you get dumped into the hands of a businessman who's a pain, you become a pain and so does your whole team. In fact, the story is such a pain that I'm not going to say nothing about it, I'll just send you to the website to read the pain of an article. Telegraph
 That's about it for today. Now, where did I keep that cup of coffee…?