The following took place between 5am and 6am, in the mind of an Arsenal fan. (Please tell me you caught that reference to 24)
Angry Gunner (AG): Stop it, let me go, let me at him!!!! Arggghhhhh!
Calm Gunner (CG): Pipe down mate, we already won
AG: So what? We were a pile of shit for most of the game, and some of our players deserve special match reports. Stop being an arse and let me at him!
CG: There's no need to get at anyone, we won, we got the three points. Plus, you handled the match report for Gillian the last time we played even though we didn't lose and…
AG: Oh shut up!
CG: Don't talk to me in that tone please, reserve it for the players.
CG turns around as he says that, and doesn't see what happens next until it's too late; AG slightly exasperated at this point, motions to the left side of the brain and attracts the attention of consciousness.
CG: You bastard! I'll have you next time, I promise. You just wait and see.
AG mutters to himself in amusement "hahaha! I thought he called himself Calm Gooner, the c*nt!" just as he rises towards consciousness.
*note to the editor DisFemiSef or Spruce Spruce!* Please insert a line break here to separate the events that have taken place beyond the realms of consciousness. Everything after this point is in the realm of consciousness. The thoughts from here on out are 100% AG's.
*And so, while editing, Mister Spruce adds a line break here…*
[divide style="dots" icon="square"]
I'm so angry at that performance, I don't even know where to start.
What an absolute sh*te performance against a 10-man Newcastle…
After the experiment of Beauty & the Beast didn't work out on Monday, it was nice to see Beauty dropped for someone who wasn't made nervous at the sight of a beast beside him.
Dare I say that Koscielny actually reveled in the fact that he was partnered with someone whose looks would immediately scare opposition attackers into his pocket. No more Mr. Fine Face Wenger, Kosc likes the beast. It is no surprise then that the only highlight was our defending on the day, though that's hardly saying much.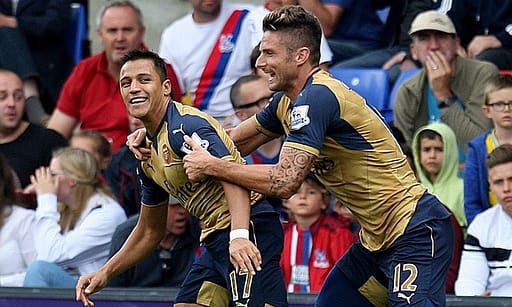 Why you say?
Well, maybe because we were playing against 10-MEN that barely posed any decent attacking threat FFS! That being said however, there was a definite calm at the back, both when defending, and trying to pass out from the back.
The Coq-block King was once again in fine form, which must have pleased Wenger after he defended him during the week. But the highest praise must be given to Le Coq's legs and ankles for not snapping when the savages from Oldcastle were hell bent on seeing how this present Arsenal team would react in another Eduardo/Ramsey-like situation. MOTM!
Now I've gotten all the pleasantries out of the way, WTF was FRAUDERLAIN doing for the most of the game? His deflected shot doesn't count either because that was going out for a goal kick. Surely there must be a hundred vines of him looking for the ball under his feet, UNDER HIS ****** FEET! He was with the ball FFS!
Don't get me started on that Chilean midget, his decision making was annoying as f**k, except for one or two moments. I mean, we bought him for £32m! That may not be much for other teams, but in Arsenal money, that's equivalent to £90m, I expect him to score everything that comes his way.
I will not even dignify that thing Walcott called a performance with a review. Bald headed "put me upfront to strike" tw*t.
Then Ramsey!
Funny how he had two totally separate performances, did they bring on his creativity when Walcott was taken off, or was Walcott just totally that sh*te? In any case, I expect Mr. Ramsey to kill a celebrity every time he steps on the pitch. The last 15mins by him were awesome tho.
Cazorla wanted to kill me, I'm pretty certain of it. I saw his passing stats and couldn't help but roll my eyes at them. We were slow in the final third and I would pin some of that on Cazorla, who on numerous occasions there's be movement in front of him but he would let it pass every time and instead, pass the ball some place else. In any case, I missed Mesut.
Giroud is a curious case you know?…
He comes on for 15 mins and already gets two clean chances (if my memory isn't playing tricks on me). He is good at the things he does, but we need him to be good at other things too. I mean, how did he f***ing miss that last chance? WHO TRIES TO CHIP A STANDING GOALKEEPER FROM THAT DISTANCE?
WHO?
Even the bad haired Chamakh wouldn't.
A few notable mentions…
Steve Mclaren is an absolute T**T!
Haidara has terrible hair, does he have no one to tell him that? DAMN!
Haidara has very terrible hair!
Haidara has very, very terrible hair!