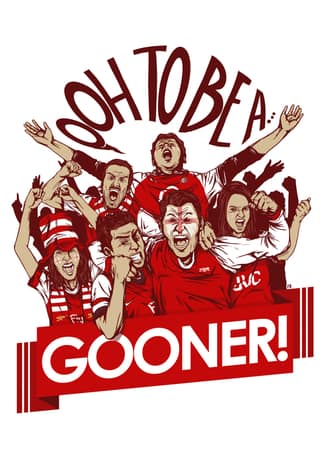 Hey awesome Gooners and Goonerettes, its the last day of the year and being kind blank on what to write I have decided to do a piece on Arsenal's 2014.
The ups, downs, sides, the good and the bad. Those moments that made us have to visit the doctor to check our blood pressure, those moments when we were totally relaxed and maybe threw a party afterwards.
This should be an interesting piece, and hopefully I'll remember as much of it as I can. To be factual, it has been a year of mixed emotions for everyone linked with Arsenal.
What better place to start than JANUARY 2014, at the beginning of the year we were top of the league after an impressive first half of the season. At that point we were already being tipped to win the title and end our 9year trophy drought. Victories against Cardiff, Aston Villa and Fulham only helped increase better the odds.
We also advanced to the fifth round of the FA cup after victories over Spuds and Coventry.
However, doomsday was around the corner. The injuries were close by and nobody saw them coming. Started with Walcott against Spuds and Ramsey followed suit.
Arsenal struggled for numbers in the midfield after injuries to key players and we were all crying for reinforcements, media linked us to Draxler and a host of other players.
And guess who Wenger signed?
The great, sexy Kim Kardashian.
Ooops, my bad. It was Kim Kallstrom on loan.
I was worried and still don't get the reason for this move as the supposed saviour was even injured when we signed him.
And then we entered FEBRUARY, the month where we always crumble, capitulate and fall apart. This month wasn't even about the fact that we lost to title rivals but the manner we in which we lost.
Remember we had lost 6-3 to City earlier in the season??
Well there was more to come.
First up was the 5-1 thumping at Anfield. Less than two weeks later we lost 2-0 to Bayern with Szczesny sent off.
The drop had started.
We finished the month in 2nd but at least our FA cup run continued, we got a chance to avenge the 5-1 defeat but we could only do 2-1. We were through to the next round of the FA cup.
MARCH came with its own turmoils. To think we would continue MARCHing towards the trophy was a mirage as we lost to Stoke at the Britannia, 1-0. It only got worse from here.
A crucial derby victory at Tottenham was preceded by a credible 1-1 draw in the return leg against Bayern Munich, but another thrashing was not far away.
This time it was at Chelsea, with Blues boss Jose Mourinho perhaps getting to Wenger with his 'specialist in failure' comments leading up to the game, the Frenchman's 1,000th match in charge of Arsenal.
Again, the match was over at half-time for the Gunners with Kieran Gibbs mysteriously sent off despite Alex Oxlade-Chamberlain's guilt, and a 6-0 defeat seemed to be the final nail in the coffin in terms of title dreams.
Luckily, the hope of ending the nine-year trophy drought was still on with a 4-1 victory at home to Everton to reach the quarter-finals of the FA Cup. The FA cup run become our silver lining and we guarded it with our lives, you could just see it in the way we approached the Cup games.
APRIL was no better than the rest. It wasn't April Fool's day but again we lost. Again. This time to Everton, we were somehow thumped 3-0 in a match where we made Lukaku look like Messi.
Three wins in the remaining matches in April was enough to put us back on track for a Champions League place. We also progressed to the final of the FA cup albeit after a very nervy game which we had to scale through with penalties. And guess who scored during the shootout. Kallstrom of course. (I then thought Wenger signed him just for that moment).
And then 'twas MAY. The fight for top four place was very tight and we all were wondering, MAY we just go back to January when we had the whole league under our feet??? Nah, not gonna happen.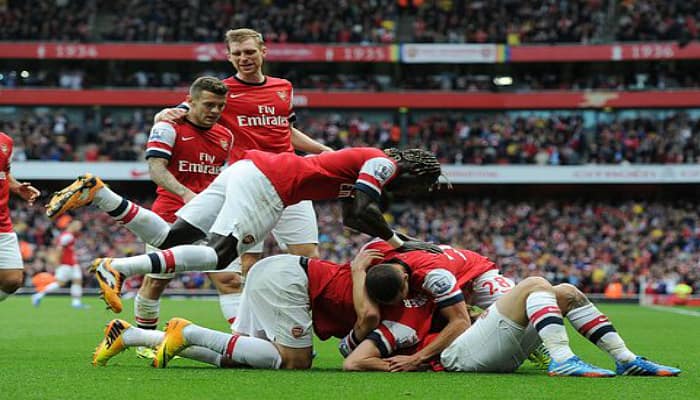 We did hold a top-four finish and Champions league place after two Premier League wins in May, but the month was all about the FA cup final. The chance to remove all the cobwebs in our trophy cabinet.
It was not even funny that day when my checked live scores and saw we were 2-0 down. I was almost in tears in the bus that day. Got to where I was to see the game with a lot of Arsenal fans, it was not Wembley by the way in case you start thinking.
Anyways back to the game, It actually did feel like Wembley. A big cinema hall filled with passionate Gunners rooting for us to win a title. A spirited comeback spoke much about our season. Brittle defensively and displaying little to no 'mental strength', before fighting back and showing plenty to hold their nerve.
Santi Cazorla's freekick was an absolute beauty and Ramsey was suitably the match-winner with a poked finish in extra-time to secure a 3-2 victory, and Wenger finally had reward for his years of hard work with a young team.
Season over, now talk switched to the French boss and his future. Two weeks later, a bumper three-year deal arrived as the Gunners embarked on a new adventure with Puma.
It seemed Wenger was loved again.
We had just won a trophy and the trophy cabinet was finally cleared of all the cobwebs after 9years of no activity in there….. Fabianski was truly a hero in the FA cup run and deserves a mention.
[alert style="1″]Click Here for  Part 2[/alert]