I truly hope you enjoyed the part one on my 2014 Arsenal review and it brought you some memories and reopened a few scars..hahaha.
For me that Chelsea defeat was one I really wanted to forget but I had to write about it. There was a funny side to the match though, that mistaken identity thingy. Made the ref look really stupid and confused the guy. lool
So, back to the review.
June was the next. Off season and the attention of the whole world turned to the World Cup in Brazil. Let me just use style to remind you of that 5-1 thrashing Spain got at the hands of Holland. I tried to console myself with that…somehow.
As the World Cup was going on, Arsenal was doing what it had become 0 perfect in, topping the rumour mills. Who were we gonna sign?? A centre back? A DM? A top top 9?
I was happy because Wenger was in Brazil to see for himself firsthand and maybe conclude some deals before he got back.
Then the worst happened, Wenger passed up the opportunity to resign Fabregas and he went to Chelsea and he was still tweeting 'once a Gunner always a Gunner'. A move I still regret till date but #WengerKnowBest right?
Boom, JULY was here and the World Cup came to an end. We had three of our players, Ozil, Mertesacker and Lukas Podolski crowned as world champions as Germany toppled everyone in Brazil.
Wenger promised he would act in the transfer market once players returned from Brazil and one could only wonder what he had up his sleeves. He worked his charm to persuade Barcelona star Alexis Sanchez to pack his bags in a £30m deal, while David Ospina and young defender Calum Chambers were also brought in.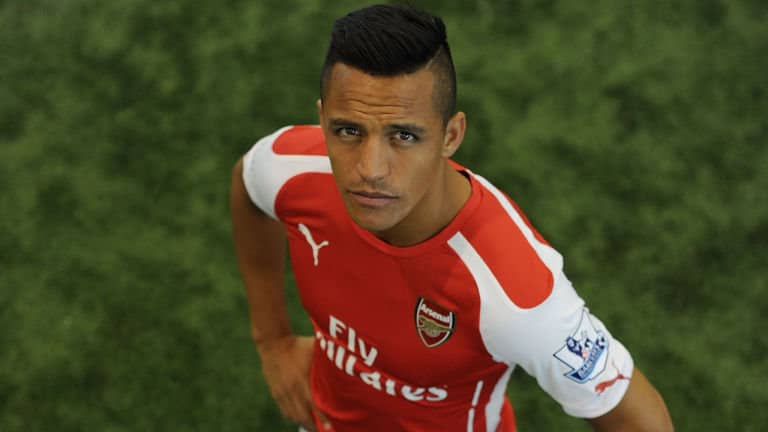 Mathieu Debuchy replaced club servant Bacary Sagna, who disappointingly joined Man City on a free transfer. With the likes of William Carvalho linked with a switch, fans still felt more investment was needed to build on 2013-14.
I was expecting to see James Rodriguez or Pogba…hehehe…but I was definitely gonna make do with Sanchez.
AUGUST,hmm…August was kinda good to us. He brought us another piece of silverware, we nailed the community shield 3-0 with Giroud scoring what looked like the best goal of his career. Then Champions League qualification and an impressive comeback from two goals down at Everton seeing them on their way to an unbeaten start to the season.
However, as is often the case with the Gunners, discontent was growing off the pitch. Club captain Thomas Vermaelen was sold without a replacement coming in, while Wenger also kept his faith in midfield duo Mikel Arteta and Mathieu Flamini.
One man arrived on transfer deadline day in Danny Welbeck, who sealed a surprise £16m swoop to provide competition with and cover Olivier Giroud, who had been ruled out for three months with an ankle injury.
SEPTEMBER was a month of mixed happenings us.Arsenal lost new right back Debuchy to injury during a 2-2 draw with Manchester City, meaning 19-year-old Hector Bellerin was thrown into the action at Dortmund in the Champions League. A 2-0 defeat once again highlighted our big-game deficiencies.
A win and a draw against Aston Villa and Tottenham kept the Gunners' unbeaten league run ticking along, sitting in fourth by the end of the month, though we were disappointingly knocked out of the Capital One Cup at home by in-form Southampton.
NOVEMBER. The 'Ember months are always said to come with some form of bad luck and Arsenal was not left out. Defensive form and fitness was beginning to take its toll on Arsenal, with Laurent Koscielny's absence with a mystery calf injury especially straining an already under-pressure back line.
Then we threw away a 3 goal lead against Anderlecht while a defeat at Swansea where Montero made a meal of Chambers was sandwiched between the Champions League game and the 2-1 loss to Man Utd.

We managed to end the month on a high though. Two wins against Dortmund(2-) and a hard fought victory against West Brom(1-0). And did I forget to mention that Sanchez had become a revelation,our saviour. He was carrying the team on his Chilean shoulders.
And then DECEMBER. The last month of the year. Ramsey scored what looked like our goal of the year in a 4-1 drubbing of Galatasaray. We had sealed qualification in Europe but then Stoke reminded us why they were our biggest nightmare as we lost 3-2 at the Britannia.
And then there was Liverpool at Anfield. Even with all the #COYG I tweeted, we still could not hold on to our 2-1 lead which we never even deserved. Skrtel headed home the equalizer in the 96th minute or so.
Home victories against Newcastle and QPR lifted spirits, while a hard-fought win on the road to West Ham lifted the Gunners up to fifth in the table to close out 2014.
Funny, we started the year at the top of the table and ended it in fifth. I would blame all our many injuries for that.
Like Wenger I hope we wont have as many injuries in 2015 and hopefully with the right signings we could become a force again. My moment of 2014 has to be the FA cup triumph but then I want to say signing Sanchez too.
So tell me, what was your Arsenal moment of 2014??
Please drop your comments below and sharing this post wont be a bad thing to do too:D
See you in 2015!!!