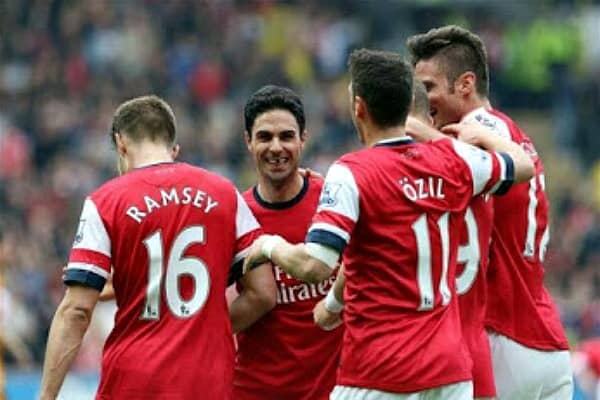 It sure is a beautiful week when your team wins an EPL game at home after going a goal down and having not played brilliantly; you can only imagine how the red half of Manchester feels after the weekend. I mean, imagine winning all your pre season games then watching the same team fail to turn up in the first game of the season, I'd have been livid. It's just one game though and as fans of the cannon crested club, we know the first game could always just be blip.
Moving on, after two blogs last week, I was a bit concerned about not having a proper material to present to you all this week, let alone two. My chief editor had the same worries as made evident by her mail to me late last week. So you can imagine the joy I had when an idea for this blog hit me on Sunday, I was as relieved as Arsene every time we qualified for the Champions League.
Alright, down to business.
Most people believe that luck has a huge part to play in football and some believe otherwise.
However, researching and pointing out which set of people are more accurate in their beliefs isn't the purpose of this blog as I am more intrigued by the game of odds during draws, especially the Champions League knockout Round of 16 draws. I am certain that I will be justified in my claim that we seem to not know exactly how to play this particular game.
Now this blog may be coming at very pre mature time as we have 5% chance of not making the Champions League group stages, and -as proven by our famous win against Inter-Milan at the San Siro years ago- there's a lot of room for an upset in a 5% chance. That being said, I'm writing this regardless and hopefully there won't be Turkish mud on my face by the end of both legs against Besiktas.
Because I am a very lazy person, I find the task of going on an expedition to uncover a particular pattern from over two decades of UEFA Champions League Knockout draw data, a arduous task I'm secretly hoping someone will do for me after reading this blog.
From recent memory, it is evident that Arsenal has always been drawn against the best teams at their peak (Barcelona Golden age 2x and Bayern Munich German revolution x2) during the Round of 16 draws.
Now we can allude that to the fact that we somehow manage to f*!k up qualifying first from our group or if you are the kind that fancies conspiracy theories then a chance that maybe there's a conspiracy against us by UEFA would be more appealing to you. However if you are like me and are momentarily intrigued by interesting occurrences then you'd find that my rambling at the end of the day is a little bit pointless as I am clearly taking advantage of an interesting idea to make you read 500+ words *grin*.
Jokes aside, why did we have to be dealt the same hand of cards for four seasons albeit not consecutively?
I am of the opinion that if we are to lift the UEFA champions league come May, then we will need to take the form of Katniss Everdeen during the time when the draws are made and sincerely hope that we have someone not affiliated with the club tell us the magic words "May the Odds ever be in your favor" for only then will we be able to stand a chance of winning the Game of Odds.
Lest I forget, it would also be greatly important that we go into the competition with a club version of Peeta Mellark who would help us along the way as it is portrayed in the Hunger Games movie that Katniss needed Peter. But come the finals in May we can not afford to hesitate when it is time to kill Peeta whoever he may be to take the prize.
A moments silence for the great loss we all suffered on Monday night. No matter who you are, as long as you are an Arsenal fan, it must have been very difficult for you to watch Fabregas do what he for us many times for the Chavs. Anyways, we gotta move on.
Have a nice day. You can always engage me in a conversation on twitter @gillianmusic