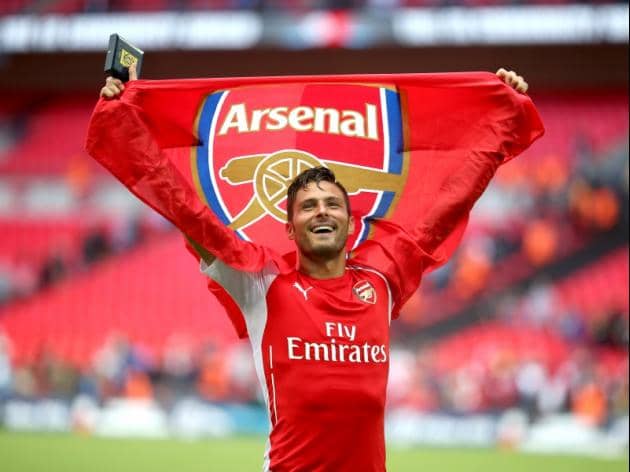 Image: Arsenal.com
The UEFA Champions League group stages are effectively over and the last of the lot had their fates decided on Wednesday.
Sadly for us, Aaron Ramsey's wonder strike wasn't enough to enable us seal top spot in the group stages and although we finished the group equal on points with Dortmund, we might have to look back to that game against Anderlecht where we squandered a 3-nil lead with a lot of regrets.
Our second place finish has effectively ensured that we finish second behind Dortmund for the second year running and in turn making us look to the round of 16 draws with shivers. The so called tough teams such as Real Madrid, Barcelona, Bayern Munich, lie in wait.
Trust me, these are teams that would cause anyone to fret at the thought of facing any of them. So lets evaluate all the possible opponents we could face by the time the draws go down on Monday the 15th of December in Lyon.
[dropcap_blue]Real Madrid[/dropcap_blue] Firstly, it is worth noting that Real are the defending champions. This is one team every runner up
would be scared of facing. Real Madrid are the only team that finished the group stages garnering all the available point and to think this is the second consecutive year they are repeating that feat.
They topped their group of Liverpool, Basel and Ludogorets scoring a total of 16 goals and conceding only 2. Their attacking front line of Ronaldo, Bale, Rodriguez and Benzema have been a torment to every one this season with their pace and technique and it would be interesting to see how Arsenal overcome this hurdle if we get to face this 'deadly" Madrid side.
Quite alright, we came out successful the last time we faced Real Madrid with Thierry Henry getting the all important goal at the Bernabeu but trust me, I won't want us to face this present Madrid team at all. So for me, its a no no.
[dropcap]Barcelona[/dropcap]For Arsenal, this is a more familiar foe. Having played Barcelona alot in recent years and also being
eliminated by them a lot. The last time being the UCL round of 16 in the 2010/11 season which we lost 4-3 over two legs.
It would be very interesting to see how this draw would play out if it comes to pass. Barcelona on their part would look to defeat Arsenal and achieve their aim of winning this season's UCL and maybe just maybe get one over Arsenal for selling them a crocked Thomas Vermaelen who has virtually been injured since his move there in the summer.
Arsenal on the other hand would look to say thank you to Barcelona for Alexis Sanchez and also pay back for all the defeats and eliminations we have suffered in their hands in recent years.This should definitely be one interesting tie to watch if it materialises.
[dropcap_red]Bayern Munich[/dropcap_red]This is another deadly team which the gunners would like to avoid. We were sent packing from the UCL last season by this Bayern side and we might think we could get one over them if we get pitted alongside them but, I think it would be a win-win situation for both teams if Arsenal could avoid facing this Bayern team. Yes they have their flaws but players like Xabi Alonso, Lewandowski, Robben, Gotze make them even more deadly.
[dropcap_yellow]Atletico Madrid[/dropcap_yellow]The current holders of the La Liga title, this Atletico side have established themselves in world football thanks to their relentless, constant pressing style of play and their very exuberant manager in the person of Diego Simeone who has masterminded the rise of this team.
Their summer signings, Mandzukic and Griezmann make the team even stronger and add a different dimension to their style of play. It would really be mouthwatering to see how Arsenal cope with the A.Madrid style of play and get through this fixture if it were to see the light of day.
[dropcap_green]Porto[/dropcap_green]The Portuguese champions finished comfortably top of their group with 14points scoring 16goals and conceding just 4 goals. This is one team Arsenal would be very excited to be drawn against as we would feel we could easily nail this.
Porto strike, Jackson Martinez on the other hand might use this game as a sort of audition seeing as there has been some sort of interest in him from Arsenal and the player himself has made it clear he would love to move to the Emirates. Over two legs, the Gunners should be able to topple and champions of Portugal and come out on top.
[dropcap_red]Monaco[/dropcap_red]Sitting here, typing this, I am still trying to wonder how Monaco even topped their group scoring just 4 goals, conceding 1 and amassing a total of 11points from the six group matches. Anyways, Monaco could also prove to be somewhat of a tough team for arsenal to face.
In Berbatov, they have a striker that has an history of scoring against Arsenal. Other players like Kondogbia and Joao Moutinho to mention but a few might also prove to be stumbling blocks for the gunners and cause us some issues. In general, would be one game I would love to see..
[divider_1px]
[font_bold]Final Verdict[/font_bold]
[alert style="2″]Being the Arsenal fan I am, I would surely love to see us progress beyond the round of 16 this year after failing to do so in recent times. So right now, I have gotten on my knees already praying to the gods of football and to UEFA to temper justice with mercy and give us Monaco or Porto preferably.
I am not saying these two things would be walk overs but at least the squad morale wont drop from merely seeing the draws.[/alert]
We can only chill till Monday tho!!!!