So, I'm at work and a colleague who's a Chelsea fan comes in as usual to take a swipe at Arsenal. He says Wenger's too slow in taking decisions on and off the pitch, and that we don't need a striker, instead we need a DM and a GK. I ask him to share his thoughts while I transcribe his argument during lunch time, enjoy.
[divide icon="circle" margin_top="5″ margin_bottom="5[divide icon="circle" margin_top="5″ margin_bottom="10″ color="#dd3333″]"
Emotions and rivalry aside, a Chelsea fan here telling Gunners that Arsenal don't really need a striker. Here's what YOU need…
A top class Goalkeeper also known as Petr Cech
Another Defensive Midfielder. A Kongdobia (Arsenal, slap yourself for missing this one) or a Schneiderlin.
First, it beggars belief that you guys missed out on the French Viera with big lips. He caused you grief when he played against you in Monaco and you allow Inter, a club with no hope of Champions league football this season, a club that finished 8th in the Serie A…you let THEM buy Kongdobia.
Here's a scene.
Ronaldo while at Sporting Lisbon gave Manchester United grief under Ferguson and what did Fergy do?
By him of course!
Kongdobia's the kind of DM you want on the field when you play your attacking football, Francis Coquelin is the kind you want when you have no intention of leaking goals. His passes are simple and he is quite disciplined aka he's not Flamini.
However, Coquelin would certainly be jaded if he plays every league game plus CL games and don't fool yourself Gunners, Mikel Arteta is finished…
* At this point however, Mister Spruce had to argue to the contrary, Artets isn't finished *
Since Kongdobia has slipped from right under your nose, go after Morgan Schneiderlin. He's proven in the EPL, the lad knows what he's doing, he'd be a good buy; mind you, we want him as well and would gladly steal him if you waltz about too much.
To the part that breaks my heart – Petr Cech.
Us at Chelsea don't want him to leave even if we can't give him what he wants. It's selfish but what the heck. He'll be a top signing for you guys given that your smoking goalkeeper can sometimes act like a headless chicken in goal. Cech can organize a defense I tell you; I also agree with John Terry about him saving you points.
The players mentioned above are what you guys at Arsenal actually need – A goalkeeper and a defensive midfielder.
Why Arsenal don't need a striker
Well, your team is one where the midfield can deliver goals – Carzola, Ozil, Ramsey, Wilshere can all give you 10 goals each if they tried, that's 40 goals already. Then there's Welbeck who could give you like 15. He's not been the best but if he could work on his finishing/instinct/composure, he could be lethal like Theo Walcott. Now, that's 55.
Theo Walcott…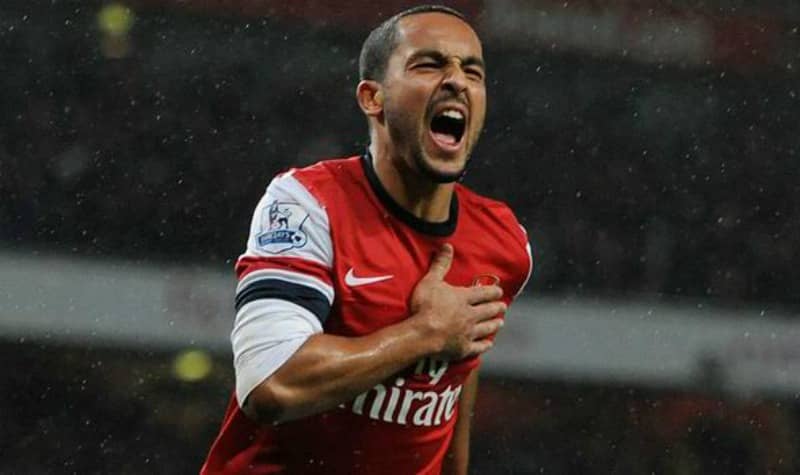 On the form he's on, you could get 20 goals from him, the lad's a speedster on steroids. Then there's the beast Sanchez who could give you 25 goals and then Olivier Giroud with another 20 goals. That's 100 plus goals!
If your backline is right like it should be IF you get our dearest Cech and swap your German Pole in Mertesacker for a faster Gabriel whatzisname, you could be on your way to winning your first title in what? 10 years? That's a long time Gunners, get it right this time.
[poll id="16″]