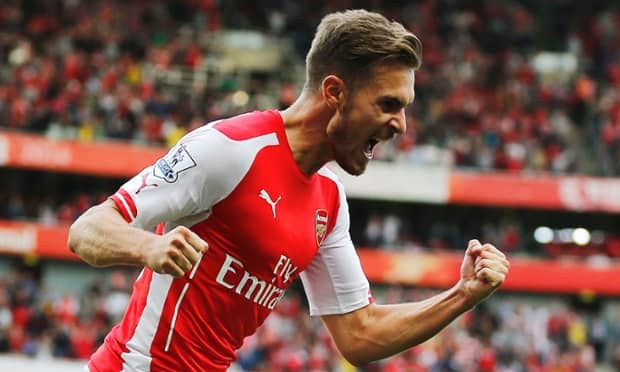 Because I'm a fan of Roberto Martinez and the awesome philosophy he's implementing in Everton, I would like to give credit where's its due. For us, the draw was well acceptable, unlike the misdemeanor last season at the Emirates, where Deulofeu broke our frail hearts
Not surprisingly before kickoff, we were favorites for this clash and why not? Comparing both teams, Arsenal appeared the rejuvenated side after key acquisitions in the transfer market. With Mesut Ozil back into side, and Alexis Sanchez spearheading the attack, on paper, we looked unbeatable and out of reach. Of course, that rarely matters in football, and Coleman respected that f****** assertion by evading Ozil with ease to fire the home side to a vital lead.
When I got a glance of the team sheet, I was appalled to find Monreal and Mesut Ozil on the left flank.
Ozil rarely tracks back to support the defense, so fitting an unsteady Monreal with the German was a horrendous tactical mistake by Arsene Wenger. To rub salt on injury, the slow Mertesacker was the closet central defender to Monreal.
Again, it was evident Martinez was paying attention by deploring Lukaku to the right flank. They soon doubled their advantage when the BFG was bullied off the ball by the Belgium before his low cross met Naismith to double the advantage.
After starting the game on the front foot, we lost concentration and conceded fluke goals. We wanted to prove to Everton that we wouldn't stutter in an execrable fashion, but this was an irony.
Giroud came on the second half for Sanchez. Despite the harsh criticism on his display, Sanchez had a fairly effective first half. I thought he unsettled Distin and Jagielka with his pace, giving room for Ramsey and Wilshere to make those necessary runs into the box.
However, what we do know is the Chilean is not a target man, and when situations arises for a tall bloke who can struggle to win the aerial balls, Olivier Giroud comes handy.
Everton picked up from where they left off in the second half. The deposit was taken its toll on us, and I wondered if we had conceded another goal very early on, we ostensibly could have left Goodison with an aberrant score line.
Tactically we were under pair, the home crowd made situations dire. McCarthy and Barry operated in tandem to cause us so many problems.
Mcarthy: Hey make sure they don't leave the central line with their sissy passes
Barry: LOL okay boss, got this.
At this point, a consolation goal was the likely denouement to soothe our worries. Against the run of play, it came very late!!!
The diminutive Cazorla's cross was met gracefully by Aaron Ramsey to tap in and make the final minutes pulsating.
Wenger, probably sensing a lift was on his feet urging the boys to make something happen. The onus was on us to grind that second goal, and we did grind- Infact, we pulverized the coal to very smooth ashes.
The man from Montelliper was in the box when Nancho Monreal autodidact cross was curled in, with threat from the ever solid Distin, Giroud managed to the direct the ball to the bottom right corner to make it 2-2.
We had a neat opportunity to make it 3 but I can't remember. Still, a draw was the fair result.
Afterwards Wenger said:
When we got beaten 3-0 here it could have been many more. That was quite a flattering score on the day but today I believe we deserved the point we earned and for us to come back from 2-0 down against a team who is good on the counter attack shows that the belief and resilience is there. Having said that the second goal was offside and there was a foul before, just before half-time, so it was difficult to swallow. But we took it on the chin and came back in the way we did.
It wasn't the best of performance, but what matters to me was getting something tangible. Everton are a tough footballing side to beat.
We must now carry that resilient momentum to Wednesday when we welcome Besikats to the Emirates.
It promises to be an arduous mission to beat the visitors from Turkey and the eventu outcome matters on my next write up.
Till then.