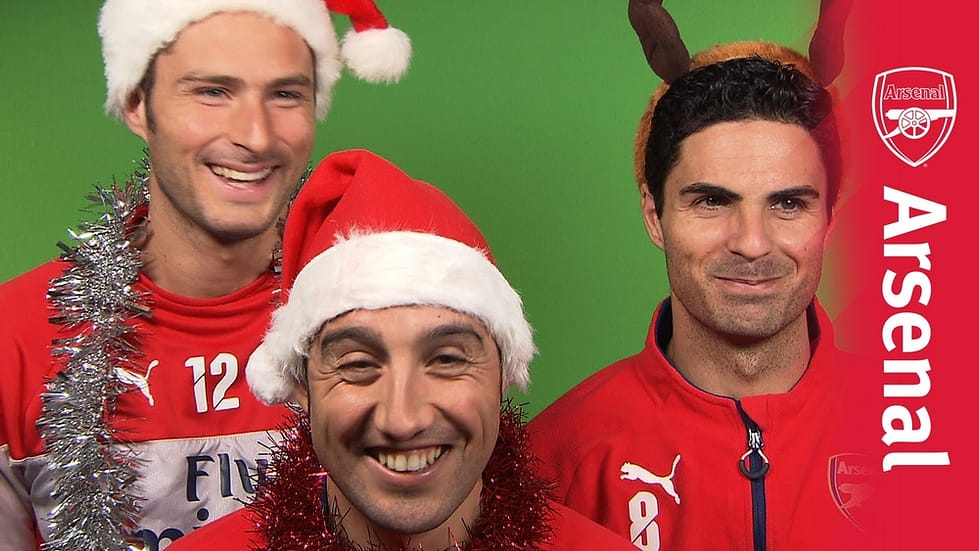 Credits: arsenal.com
Christmas is here!!!
For me, I had an august visitor in December. Wanna guess who it was?? For one I can say it was not Wenger. Last night, Santa came over (believe it or not:D, he did) and we had dinner together. Funny right?? Well. all he came to do was ask me who I would want Arsenal to have by the January transfer window.
We all know Santa gives everything we ask him for, well almost everything. I almost asked him for Messi and Ronaldo and Xabi Alonso and Neuer and James Rodiguez and Matic and Fabregas and… Interestingly, Santa went all Ho!! Ho!! Ho!! on me asked me to be more realistic, he also said I was funny.
Anyways, lets get realistic.
The January transfer window is right under our nostrils and clubs around the world are already drawing up their transfer plans and the players who they would like to have and those that would leave based on the transfer kitty each has.
For Arsenal, I hear we have about £20million for our New Year shopping. Wenger already admitted he's ready to spend if the right players become available. Mehn!!! I hate when he says that, mostly because when he does we never sign any player or at least we don't sign a good one.
If we all were to make decisions for Wenger, alot of players come to mind but of most importance would be a defensive midfielder and reinforcements in the defence, a striker wont be too bad an addition but Wenger has already ruled that out saying we dont need any more forwards.
So back to my Santa story, I asked Santa for Moussa Sissoko. You wonder why??? Its simple, Arsenal need a defensive midfielder and Sissoko would fit right in considering the fact that he already plays in the EPL. To make my wish sweeter, Sissoko himself has already started talks about how he would love to play for us someday and yes, the conventional lie, how Arsenal is a club he has supported since his childhood.
You know its funny how all players support a club from childhood when they want a move there, a very hilarious one was when Christopher Samba wanted to move to Anzhi Makhachkala and then in his first presser he said it.. He said Anzhi was his dream club..lmaoooo
Well, I dont really care if Sissoko is lying right now or not all I know is he is one I would love to see in an Arsenal jersey. The Newcastle midfielder is emerging as a strong contender to fill Arsenal's defensive midfield role.
Arsene Wenger has had his eye on a new holding midfielder since the summer and, despite the fact he usually plays in an advanced role for Newcastle, Sissoko features highly on Arsenal's list of targets. Sissoko said earlier this month:
'I have ambition. My goal is to play at the best clubs, playing the Champions League, win trophies, but today I am a Magpie and I am very happy.
'Arsenal were my favourite club when I was young and my idol was Patrick Vieira. I have always loved this club and I still love them.' You see,he said it. Now its up to Wenger to make the move.
In addition to Sissoko, the Gunners are targeting a move for Ipswich Town defender Tyrone Mings. But Ipswich's £10million valuation is proving a stumbling block towards a January deal.
Wenger, who has already admitted his interest in Mings, views the 21-year-old as a long-term central defender – even though he plays at left-back for Ipswich at the moment. If the Gunners can negotiate a lower fee for Mings, they could afford Sissoko as well next month.
In addition to these, other players also come to mind. Mats Hummels, Morgan Schneiderlin, Christoph Kramer, Lars Bender, Stephen Reid and a host of others.
The issue now is, Who would Wenger sign???
Who does he deem as the right player??
Would Wenger splash the cash??
We'll all wait for January to get our answers, I just hope we dont end up seeing one player from division 3 of french football though. If it happens, I said it first.
Merry Christmas to one and all and Happy New Year in advance too:D
[polldaddy poll=8545085]