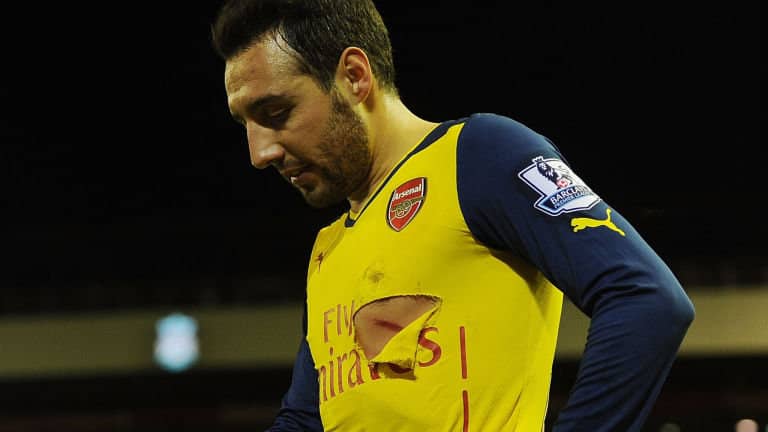 Happy New Year from me to You reading this right now!!!
Its 2015, the year we all have been waiting for. Well, most of us though.
The Year Arsene Wenger said was gonna be a good year for Arsenal seeing as we would have most of our key players back from injuries. But then Wenger does not always know best.
The year 2015 started with a DEFEAT to Southampton. We lost 2-0 on New Year's day. What a New Year's Day it was for Arsenal. I missed the game and at first was sad I did, but then we lost, and I was grateful I did not watch it. I now had to pick between which was worse – the fact we lost or the terrible music at the dinner I attended.
I had to settle for the loss though.
I would liken Arsenal to a James Bond movie or to a song on repeat. Its has all become a cliché.
We know Bond always gets the hot chick and kills all the bad guys by the time the move ends. In Arsenal's case, we start the new year badly, get knocked out of all competitions by February and end up finishing fourth at the end of the season. Amazingly, this time last year we were top of the league and still in the champions league then February came and we lost it all.
Wenger said towards the end of last year that he doesn't see us having as much injuries as we had last year and as such this year should be a good year for us.
I really don't know about that.
Yes, key players are coming back, Ozil, Arteta, Ramsey, Theo is getting his match fitness, Welbz, everyone. I mean, we are gonna have a full squad in no time but that would only come to test the manager's tactics.
Amazingly we don't have any players going for the African nations cup this year so the team stays full. I missed the game yesterday but I saw the highlights. I am still wondering if our goalie thought he was Neuer yesterday. Still cant fathom what he was doing outside for the first goal or why he decided to retreat after he had come out giving Mane the chance to execute a perfect curler into our goal for the first goal.
With Giroud out thanks to his second of stupidity and Welbz out injured. One would think 'the Prof' would at the least start Poldi or put him on as a sub but none of those things happened.
Poldi did not start neither was he brought on as a sub but instead we saw a certain Chuba Akpom being called upon when we needed a goal.
Funny Wenger.
Maybe he should just let Poldi go out on loan 'cos as it is right now, he doesn't feature in his plans. It's like he regards Poldi as a champions league player and would rather let him rot on the bench than play him. Not Fair!!!!
It's interesting to see how Wenger tinkers with his line-up and tactics when the squad is full. He has also said he sees defensive reinforcements as the primary targets in January and I would love to see the additions he makes to the team.
Sanchez needs a rest and was a has been jaded in the last few games but I don't think Wenger is ready to drop him.
Its just the beginning of the year and with the loss yesterday, I can say it would be an awesome year for Arsenal but It all depends on the things we do.
It all would hinge on the players we buy, the players we let go, the players that stay fit, the players that get injured and most importantly, the way we play, the tactics Wenger employs in this year.
That's all for now, am out. Do have a Good New Year all.
Please drop your comments below and share this post if you enjoyed reading.
Thanks….