With only two goals and one assist in 18 Premier League games this season, Özil gives Arsenal reason to pause, and think.
This article is not a personal vendetta against Özil. No, it's not.
Instead, this is a call for concern.
I subscribe to a series of football articles from respected football analysts, but today, a stat gave me cause for concern.
Many say Özil receives unnecessary gripe from Arsenal's supporters, but wrongly so as these stats will later show. Özil has been berated for not putting enough effort into games, for not running enough and not fighting enough.
Now, not every player will be Patrick Viera, Tony Adams or most recently, Lacazette.
I understand that.
Besides, Özil does cover a lot of ground when he plays, even though most times, it doesn't look like it.
What good is a spoon when you need to shovel snow?
What good is a fork when you need to rake in the hay?
What good is a Ferrari if you're going to drive it at 15 kilometres per hour?
I'm sure you get my point by now.
Arsenal bought Özil for one purpose only – to become the creative powerhouse at Arsenal.
And for some seasons and a half, he was just that.
Özil's Assists at Arsenal for every season played
Dip-In-Form Alert
It's a point to be argued: Ozil's form started to dip the year after his bumper contract. Now, I'm not drawing conclusions but the dip in form could be due to age or contract complacency; you decide.
I figure Arsene Wenger was looking for a Bergkamp or Fabregas replacement when he made the purchase. Some people say Özil should not only be judged by assists and goals but also by pre-assists.
Furthermore, some factions say the player should not be only be judged by assists that led to goals, but by assists/passes that did not convert to goals on account of strikers wastefulness.
Food for Thought
Question: Why is it an assist only when it leads to a goal?
So, when Josh Williams of The Football Project laid out the stats for the most creative players in the League, it further buttressed the point that Arsenal's midfield maestro wasn't delivering on the goods. Even for all the kilometres, we say he covers at games.
The most creative players in the English Premier League
The stats in question looked at the most creative players in English top-flight [2019/2020 season] according to shot assists per one hundred touches. In other words, Josh Williams of The Football Project also thinks it unfair for a play-maker to be judged only by assists converted to goals.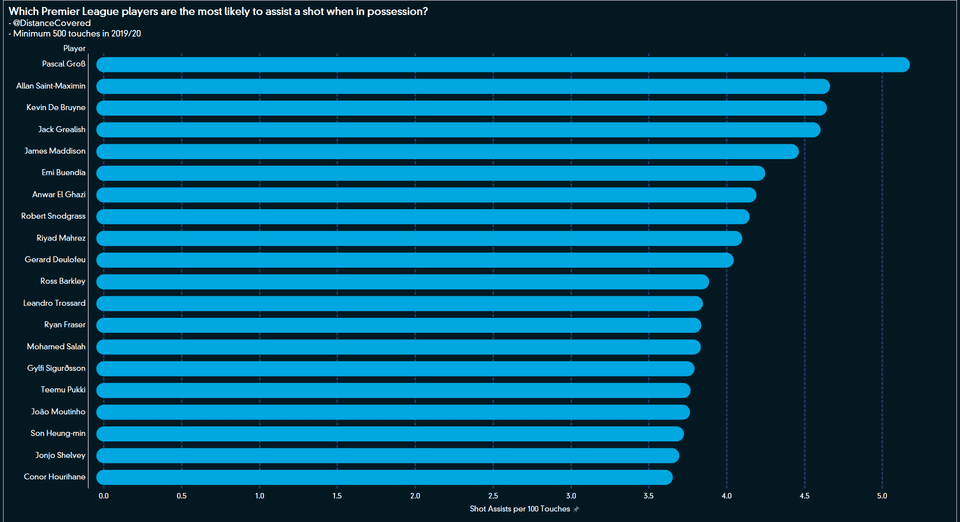 Topping the list is Pascal Groß of Brighton & Hove Albion. At the bottom of the list, you have Conor Hourihane of Aston Villa.
No Özil. Or any other Arsenal player. *crickets chirping*
And, by the way, Conor Hourihane has played just 18 games this season, same as Özil. Pascal Groß has only played five games more.
Now, what if Pascal Groß played behind Aubameyang or Martinelli?
Obviously, Aston Villa and Brighton & Hove Albion's forward line can't hold a candle to the depth of firepower available to Arsenal. Some of Arsenal's up and coming youngsters have scored more goals.
A good percentage of the English Premier League's highest assist makers made the stat list [at 29 games played]. I figure that the players made this list due to the potency of the strikers in front of them.
And no, I'm not going to talk about whether Özil's performances provide value for money. No longer should we beat a dead horse, that's animal cruelty.
The question then is: Is there any excuse left to make for Özil?