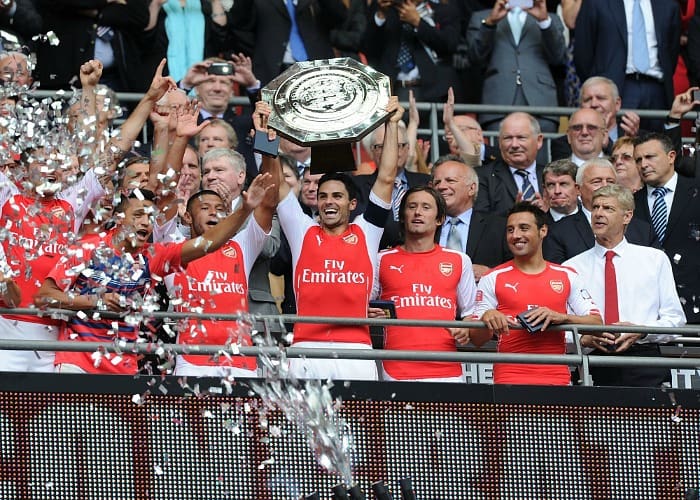 So I'm buzzing this morning after watching a great performance from the Arsenal yesterday as they swatted aside a lacklustre Manchester City side.
Yes it was a pre-season game and we won no points or anything of the sort, but make no mistake, if we had lost the game you can be sure that there would have been a meltdown in Gooner-dom.
It seems the advent of social media has brought about a need for everything to be an extreme. If we win, we're the greatest team in the world, Ramsey is Jesus Christ, Sanchez is a dragon slayer and Santi is the patron saint of winners. If we lose, then the club, the players, the manager, the landscaper, the ball boys, the chefs and everyone is shite, we'll be relegated and hope Wenger dies of a brain aneurysm.
I don't think so.
Anyway back to the game.
We were missing our German contingent + Theo Walcott (Wally), we played the second half with four full backs and yet we won—convincingly.
Santi Cazorla and Aaron Ramsey picking up where they left off in the Wembley show by scoring. Even the order in which they scored was right (Santi first, then Ramsey); Santi turned Gael Clichy (What's up with his hair) and placed the shot beyond the flailing arms of Caballero (I felt really sorry for him, he looked a bit rubbish yesterday) then Ramsey scored the second and I must say, Ramsey is really impressive isn't he?
He received Sanogo's little lay off and took a touch that got him past his man before whipping the ball in. It was the speed of thought to take that first touch that really impressed me, it might seem like nothing to everyone else, but I felt it was sublime.
Then there was the third goal. Now the fact that in some quarters he was named man of the match should tell you all you need to know about the strike. It DID NOT take a deflection like is being reported in some quarters, I've seen replays, it was a delicious dipping shot and credit should be given to Giroud for the technique to pull that off.
This brings me to what I'm currently musing over; Why do people feel we need another Striker?
Now on the official website this is the list of Strikers or Forwards:
9   Lukas Podolski
12 Olivier Giroud
14  Theo Walcott
15  Alex Oxlade-Chamberlain
17  Alexis Sanchez
22 Yaya Sanogo
27 Serge Gnabry
28 Joel Campbell
31  Ryo Miyaichi
That's nine players. Nine!
Now I know, I know, let's take out Gnabry who I feel will leave on loan and Ryo who frankly I don't think has a future at Arsenal; that's still seven players ducking it out for 3 spots. When you consider that Arsene seems to use only one winger (yesterday Santi and then Rosicky played on the left) it leaves you wondering how you would fit them all in.
The next issue is the fact that most Gooners don't seem to like Giroud much and think Sanogo can't cut it. Giroud is good striker, not great, not prolific, but bloody damn good! Below is a screen shot of how he measures up against his mates in Europe:
(Courtesy Squawka)
Now from the gibberish above, we see that in the goals category, Giroud is about average, but Benzema, Cavani and Mandzukic didn't like score a bucket load of goals more.
Giroud is just one behind Benzema in assists and when it comes to fighting for the team, Giroud comes out heads above the rest with a whooping %51.30 aerial duels won and a monumental 21 tackles won.
Now he might not be the greatest striker ever, but I feel with someone like Alexis on the team, a player like Giroud will thrive first because he'll have someone to pass the ball to because, like Ozil, Giroud works well when he has runners and second, he won't be too knackered to play the role he's supposed to.
With support from a returning Walcott, Podolski, and Joel Campbell, I think we have a forward line capable of a title shot.
In Sanogo we have a striker who I think will really push on this season; he's got a good environment to develop and has some top players around him. He also has the raw materials to do well- he is mobile, has a bit of skill and is hardworking – that's always a good thing.
It is also important to note the versatility of Alexis and to a lesser extent Walcott. I think Alexis will play through the middle predominantly and Walcott can do a good job there as well, the game against the Spuds being one example, so in terms of our forward line, I have no worries whatsoever.
If I have any worries, it's in defense and defensive midfield. With Aterta confirmed as captain yesterday it sure looks like Arsenal aren't going to buy any defensive minded midfielder and while I love Aterta to bits, I do get worried sometimes. I could be wrong though and Arsene will pull a rabbit out of a hat.
Then more worrying still is the news that Koscielny could miss the start of the season with an injury; now that scares me.
I am not worried that Arsene won't buy a center back because I'm sure he will, but I'm worried about the time constraint between now and the beginning of the season and if we'll have the needed cover. Chambers while very impressive, still strikes me a just a shade behind being truly ready to own that position and Monreal hasn't convinced me in that position. He must be commended for giving it a good go though.
Maybe I'm over thinking this, I really should just enjoy the fact that we won Man city, Na$ri didn't score against us, We didn't concede, Jovetic made a ridiculous bicycle kick attempt and we won the community shield! Well I guess that's all I have to say, sound off on what your thoughts are in the comments section, I'll be with you Thursday.
Ciao!