Don't forget to make this contagious. Share, Like, Stumble-upon, Spread, make viral…Thanks in advance
THE ETERNAL SIGNING OF ROBIN VAN PERSIE AND OTHER STORIES…
Arseblog in a wonderful piece of football news writing covered the dilemma in which we find ourselves regarding retaining the services of RVP.  You see, these are the times when I wish football  was ruled by some ruthless dictator (a multi-cross breed of Hitler,Herod and Hannibal)
 Watch this scene, the dictator is going to be called Triple H (Hitler, Herod, Hannibal…you get it?)


Enter Scene 1: Servant rushes in…


Servant: O most terrible, most horrific, most fearful, most evil and horrendous lord and master Triple H! I bring you news more terrible and horrific than your very self!
Triple H: Whaaaaat! Who dares challenge my terrible-ness, horrific-ness and evil-ness! Whooooo!!!



Servant: It's RVP your most horrific terribleness! He refuses to renew his contract with the mighty Arsenal, he says his mind is not on your gold or silver. He says your plan to take over the world completely sucks and would never work!


Triple H: TREASON!!! Get him! Cuff him! Cut off both of his hands! Sign a life-time contract with the mighty Arsenal with his severed hands and then away with the carcass of RVP's hands! He only needs his legs to play football!!!
Servant: As your most horrific terrible-ness pleases!


And so, there goes RVP's hands and his eternal signing to Arsenal…


PS: I hope we understand that the above was written on a lighter note
Read Up: Grimandi: We're doing everything to keep Van Persie
DREAM REPLACEMENTS FOR VAN PERSIE
The Bleacher report sometimes gives us cause to dream dreams that are not supposed to be dreamt.
 Delivering a plethora of strikers you know we're never going to buy doesn't do much for our already dampened spirits. For this reason, I refuse to say much on this news and would rather ask you to read it up, so… 
Read Up:Arsenal Transfer News: Top 5 Replacements for Robin van Persie 
THE DARK KNIGHT RISES: BATMAN, ROBIN AND CHAMAKH FACE JOVETIC
Here's a funny blog post about RVP, Chamakh or some dream worthy transfers…
Here's a snippet:
"If it wasn't for you giving me something to salivate over and anticipate, I think I might be letting this interminable misery and doom-mongering surrounding Arsenal get me a little down…"
Read Up: Batman, Robin, Transfers, Jovetic, Chamakh and news
Okay, so, Jovetic's name continues to pop-up in our forums, our blogs, the press… and just  like I would reveal later in the news below, never believe a club will buy anyone until you see that player in the club kit; period.

So, Jovetic, as much as I would love to see you at the Emirates, until Uncle Wenger can clear all this misconstrued news/rumours up, you still are a Fiorentina player.

Read Up: Arsenal transfer news, priced out of striker and …
THE ARSENAL BOYS ARE BACK IN BOOT CAMP
The boys were back in training yesterday and it seemed some had accumulated some "Man Boobs", err…did I hear someone say Santos? Well, let's hope the training and pre-season games pay off
. This scene made me remember a movie I watched some years ago, I hope you have a laugh…


On a lighter note:


"Let's get down to business – to defeat the Huns!- Did they send me daughters when I asked for sons? You're the saddest bunch I ever met ! But you can bet before we're through, Gunners, I'll make men out of you!"
Read Up: The week that was: Warming up
Read up: Arsenal pre-season training – Latest pictures
Don't forget to make this contagious. Share, Like, Stumble-upon, Spread, make viral…Thanks in advance
Other English Premiership News aka The Others…
PEP PLAYS RUSSIAN ROULETTE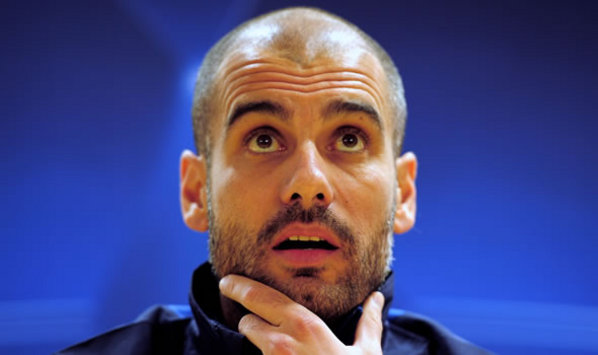 I still don't get it though, why Pep would want to do something like this. He should remember that managing a national team is certainly not the same as managing a club; even more one that had the sort of talents that were available to him at Barca.
Maybe he's looking for a challenge, or a job that'll give less high blood pressure
; still can't get my head around it though.
You don't want to know the kind of dread I faced when rumours spread far and wide about the three-some that was imminent to come from the creative juices of Mata, Hazard and The Hulk. I even wrote my Predictions on this FALSE information. Oh well, that's why they're called rumours, lesson learned.
Read Up:Hulk plays down Chelsea reports
SERIOUSLY, WHO DOESN'T?
Seriously, Who Doesn't? That was my reply when I read that Del Bosque preferred Messi to Ronaldo. Ronaldo is a stuck up cactus with his greasy hair and…don't let me start. 
*Breathe*

Read Up:Del Bosque prefers Messi to Ronaldo
Don't forget to make this contagious. Share, Like, Stumble-upon, Spread, make viral…Thanks in advance
TFS_Arsenal
Lads retweet this message please. follow this page for accurate information about arsenal fc, M'vila deal information. 
ArsenalGNO
Arsenal FC: Arsenal Transfer Rumors: Wenger Turning His Attention to 17-Year-Old Niang – 
JSPortfolio
Brighton have opened talks with Arsenal over a loan deal for Ignasi Miquel. My story for talkSPORT
ilexee67
Arsenal FC – Club Rug: Add a little extra football passion to your favorite room with this stylish Arsenal Club … 
Yours in football,