The Signing of Giroud and Other Irrelevant Stuff
Don't forget to make this contagious, tweet, share, spread…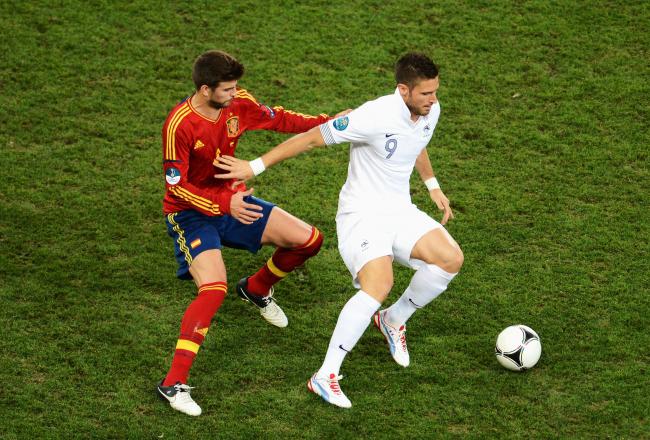 Photo Credit|Bleacher Report/Getty Images
Finally, the ink has finally dried on paper. All those who have dreamt wished and dreamt again can keep their eyes open and see for real. Giroud would soon be strutting his stuff at the Emirates and who knows, score 50 goals and give VP a run for his kits.
However, I believe that it's not all good for everybody… Take Bendtner for instance; he's been inconsistent even on loan and now the fight for the first team place is going to be hotter, harder and sweatier than ever. Methinks Wenger should sell him and a couple others and buy us some centre backs…, like Wenger's going to listen (rolling my eyes.)
You can read the full news from Bleacher report below.


Arsenal Transfer News: What Signing of Olivier Giroud Means for …

Bleacher ReportArsenal Transfer News: What Signing of Olivier Giroud Means for …Bleacher Report25-year-old Olivier Giroud is going to bring a lot more to Arsenal than just goals. The signing of the Frenchman, which was officially announced on Tuesd …


Arsenal Transfer Rumors: Gunners Should Send Nicklas Bendtner …

Bleacher ReportArsenal Transfer Rumors: Gunners Should Send Nicklas Bendtner …Bleacher ReportNicklas Bendtner appears destined to depart Arsenal this summer, and frankly, the Gunners should let him go on his way without much resistance. From the .. …




How Are We Going To Spend The Rest Of The Transfer Budget?


Wenger a usual has a knack for annoying me and everyone else that thinks like me.  Not long ago, I was on a terrific on-line forum called Arsenalonline.com which is strictly for Arsenal fans ( sorry 'bout that) and I mentioned the kind of defence I dreamt we could have.  For instance, what if Vermaelen and Kosc. could be supported by Jan Vertonghen, Javi Martinez, Stephane Mbia or even Raul Abiol?


With £13 million of a reported £57 million budget now gone, Wenger will need to watch his money and make sure he is getting the most bang for his buck.
Giroud should prove to be worth the price tag, but how much more Arsenal can afford will be worth keeping an eye on. 
All we can do however, is speculate, talk and kick our chilled beers of the table in frustration. Let's see what Uncle Wenger's got to do with it.


Arsenal Transfer News: Players Who Are Way out of Arsene …

Bleacher ReportArsenal Transfer News: Players Who Are Way out of Arsene …Bleacher ReportArsenal is looking for the final pieces of a championship caliber club this transfer season. The Gunners finished the Barclays Premiership season 19 points back …


Arsenal Transfer News: Wenger Makes £6.5 Million Bid For Czech …

whatculture.com
Arsene Wenger is to make a bid for Czech Republic right-back Theodor Gebre Selassie.






Latest Euro 2012 Football Soccer News Transfers and Rumours
footkitchen.blogspot.com6/26/12
Euro 2012 English premier league champions league, Ligue 1 Bundesliga Serie A La Liga futbol man u man utd uefa fifa sports news football scores eurosport manchester united Liverpool fc arsenal fc Manchester city …


Transfer Rumours Ep 3 Confirmed Deals
Confirmed football deals from big deals to small deals its all here click and watch thanks. Have a nice day For more transfer news and deals head over to www.soccernews.com


BarclaysLeague
BREAKING NEWS: Arsenal announce Giroud signing: The Gunners have confirmed on their official website that they h… 
MirrorFootball
Done deal: Arsenal have completed Giroud signing claims Montpellier chief 
Arsenal_Mady10
Today's Transfer news round-up: Giroud deal sealed, Barca rubbish Drogba rumours and Vertonghen talks break down… 


Have it… – Matthew Taylor's blog

http://www.matthewtaylorsblog.com/17h ago
I'm sure you've got a cultural theory explanation for the state of English football.


Premier League beckons for Pato – Squeakybumtime

SqueakybumtimePremier League beckons for PatoSqueakybumtimeAlexandre Pato has suggested he could move to the Premier League once his contract expires at AC Milan according to Sky Sports. … "I love English football.Pato hints at UK moveClubcallChels …


ChelseaFCNews99
@carbislli He could fit in to Serie A quite well, but not the Premiership, English football is too fast and physical for him at this point.


Don't forget to make this contagious, tweet, share, spread…




That's all folks!


Your's in football,