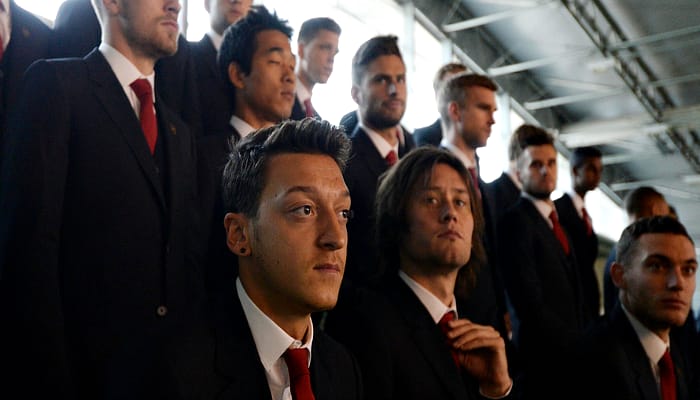 Football fans are sometimes fickle.
And so are the players.
Following Wenger's decision to rest a tired Ozil and the unveiling of Dennis Bergkamp's statue at the Emirates, the question popped up – Will Ozil ever become an Arsenal great?
Even as I type this up, it's a question I ask myself now and then.
When you see the passion showed by Rosicky, Henry, Bergkamp, Pires, Szczesney, Walcott, Ramsey or the quiet Per and Bacary, you can't help but ask.
There are mercenaries like Flamini and maybe Viera like some people say, who will give you 100% while they're in your service. You know they're giving you 100%, you can see it.
@goonergramps @goonerdave66 tell me about it. I adored Vieira, but never for once felt he loved us. Rather felt he used us to gain fame.

— AKASH DEEP (@Gooner_optimist) February 23, 2014
However, when it comes to Ozil, I dither a bit.
Is he a mercenary? After all once said that he wanted to retire at Real Madrid , then again, like I said, footballers can sometimes be fickle.
If he is a mercenary, is he giving us 100%?
Even though the English Premiership is more competitive, the quality and the performance of many players have been questioned. Are we paying over the odds to see average football played? And, are the exorbitant wages of the players telling on the pockets of the fans and club management?
I digress.
Back to the question on whether Ozil is giving us 100%. Has the 'mediocrity'  (according to John Nicholson) in the League crept up on him? Because, although Ozil has the highest assist rate in the EPL, he still seems to be finding his feet and according to Arsenal fans, not doing enough. Ozil himself said:
When you're at Real Madrid, you get criticised quickly even if you're just playing at an average level. I've learned from it. It's made me stronger. I've become more intelligent on the pitch… ESPN
Is what we're (Gunners) getting an'average' performance OR is it that he doesn't have enough quality players around him to let his performance shine through? I don't know.
Will Ozil ever become as Arsenal man?
Even with pessimist fans like Tony Adams and irritating fans like Piers Morgan, we know that all Gunners have two things in common – Love and Passion for the Arsenal.
With or without Arsene Wenger.
Although Arsene Wenger's the reason many people are Gunners today, directly (style of play) or indirectly (players he signed). 
I cannot say at this point if Ozil shares that same passion that makes Tony Adams hang around the Ashburton Triangle often or that makes Per speak with so much conviction when it comes to the club.
I do not as well know for sure if he is a mercenary and if he's giving us 100% like Flamini  or Viera who are ready to disembowel anyone who touches their team mates the wrong way. Even Podolski who smiles all the time despite starting only a handful of games.
Maybe it's just the way Ozil is, you know, that indifferent look he has even when he scores a goal; maybe that's just the way he is.
Maybe that isn't.
Many fans are still dazed by the fact that we could get a player of his quality and maybe push these questions aside when they come up but, we'll do good to answer them even if it's just for the sake of it.
I'm holding out on my verdict till next season and I'm hoping he'll be an Arsenal man.
[polldaddy poll=7827445]