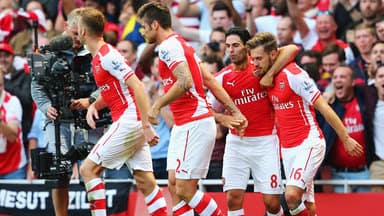 So the Premiership kicked off on Saturday with a hilarious affair as Louis Van Gaal started out his Manchester united career in stunning fashion: losing 2-1 to Swansea at Old Trafford making him a record breaker in his very first game; Swansea hadn't won at Old Trafford ever! They also recorded their first win over united—ever!
So naturally Man-U fans went into a meltdown that was reminiscent of Arsenal last season. I looked at the tweets and it was like déjà vu. It was funny and sad and whelming all at the same time. I decided to hold in any laughter or potential trolling until after our encounter with a Tony Pulis-less Crystal Palace, and man was it a good idea. I watched the game with a feeling that we'd win only to be reminded that we had indeed not won an opening fixture since 2009.
That's weird I tell ya. I remember Newcastle in Judas' last season with the ridiculous red card and Gerv's forehead. I remembered Sunderland in Giroud, Podoloski's and Santi's first season, also goaless with Giroud missing that sitter. I remembered last season's…FA cup win?
Anyways that made me a tad apprehensive for the game against Crystal Palace, with their tall defenders and hacky ways and Chamakh's hair! What the hell is that about? I'm personally convinced that Santi had a bad game because of that hair. I also imagine that Chamakh wears that hair because he lost a bet. I mean that is the only logical explanation and I feel Chamakh should pay that person a visit and change the terms of the bet, maybe offer his soul or his firstborn…or his football ability (which in fairness would be robbing the person on the other side of the bet blind).
Anyway, I was watching the game at a communal viewing center and just as we were beginning to get antsy over the way we were playing, power was cut, so we had to turn on the generators and restore power and as we waited for the decoder to boot, I wondered what had happened in the game.
The decoder came back on and I saw that we'd conceded. Now, the system of watching football in Nigeria is just amusing, everybody watches everybody's game and we all do it in the same place. So you can be sure that when watching an Arsenal game there would be trolls everywhere. You can imagine what last season's defeats were like. At least any reader from across the ocean either watched those games at home or with other gooners. We had to watch it in a communal viewing center.
So we had a situation like this on Saturday:
So I watched with bated breath, hoping to God that we did something and like a Gallic Jesus, Koscielny scored on the stroke of half-time.
The shouts of 'GOAL' at the center were more in defiance that joy and we went into the half time full of optimism. The second half was like cold coffee. We didn't play great football and towards the end of the game, the trolls who had been quiet were beginning to find their voice again and you could her murmurs and rippling of laughter. We couldn't have that, so Ramsey shut them up for us and the whole place exploded in shouts of joy.
We had won and we knew it, only a fuck up of monumental proportions that would have cost us points, so naturally we were scared to death at that last corner that was taken. Thankfully it came to nothing and we won the game and I could peacefully troll united fans and we all lived happily ever after.
So what could we take from the game:
1)Koscielny is a kickass defender who is mightily important to us and has a knack for scoring important goals
2)We still aren't quite there physically and tactically. There were time when it seemed like we were a bit jaded and other times when the players just didn't click. I remember vividly one Santi-Chamberlain mix up that just made me very angry. You'd think they were strangers on a train.
3)Alexis is going to be a great player, but he needs to take it easy, the dribbling was sometimes too much and he proceeded to lose the ball. Some of his passes were really poor, but he made up for it in hard work. It will never be said that Alexis is a lazy player because he covered every blade of grass available and he did it for 90 minutes. That chest control was all sorts of awesome no?
4)Chambers is just…he's really cool. He's like an old soul. It's like it wouldn't surprise me one bit if we found out he was actually Dorian Grey and had been playing football since it was invented. He's just way too calm for a nineteen year old isn't he?
I also found the 4-1-4-1 formation we used intriguing. Is that going to be our formation all season? It'd be interesting to see what Arsene does when Ozil returns next week. I suspect he might let it remain because it strikes me that that formation is more for Ramsey's sake than anything else, a way to balance his defensive duties and his attacking verve and it just might work pretty well.
It also seems to be a way to accommodate Wilshere in the team. He didn't have a great game, but I don't think he was as terrible as people seem to insinuate. We are all about extremes in this day and age and it could be tiring sometimes. Can't we just accept a player has had a bad game or is going through a bad patch? Must the player either be the greatest player ever and should never be sold, or an inane idiot that should be shipped out tomorrow? I don't know.
With an injury to Gibbs and doubts over Koscielny's fitness and Mertesacker's fitness worries, it does make you fear a bit about our defensive situation, but I have absolute faith in Arsene to make the right call and sign someone. He isn't blind, he sees what we see, most times better than we do, so let's not panic okay?
So an encouraging start, so we look to tomorrow in hope that we can bash Besiktas and make Ba unhappy and afford to play 11 sheep at the Emirates next week.
See you Thursday.